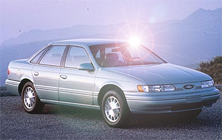 "New" and "Used" are the same thing, apparently.

Yeah, OK, I jinxed it. I got my new 23″ display last Friday, and it has a whole slew of issues. There's about 22 dead pixels, luminosity is from the top-left to middle-right, and the LCD panel wobbles forward and backward inside its metal bezel when I tilt the display back and forth.
Call me crazy, but it doesn't seem like the best idea to send a refurbished (read: "used") product to someone who's spent the last month and a half straight dealing with a lemon. Seems like that might be tempting fate. Oh, but it gets better.