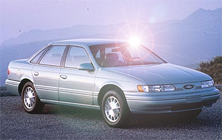 "New" and "Used" are the same thing, apparently.

Yeah, OK, I jinxed it. I got my new 23″ display last Friday, and it has a whole slew of issues. There's about 22 dead pixels, luminosity is from the top-left to middle-right, and the LCD panel wobbles forward and backward inside its metal bezel when I tilt the display back and forth.
Call me crazy, but it doesn't seem like the best idea to send a refurbished (read: "used") product to someone who's spent the last month and a half straight dealing with a lemon. Seems like that might be tempting fate. Oh, but it gets better.
Yesterday, I brought the thing into my local Apple Retail Store (at Easton Town Center, where the Geniuses have been really great, by the way) to see if they'd swap it with a new unit from their stock. They took it back to the AppleCare room, and gave it a quick once-over. I provided them with a couple of images to help them locate the issues.
The first is a 1920×1200 PNG, all black, with rings to show where the dead pixels are:
The second is a picture of my screen displaying the aforementioned image, taken with a 5Mpx Sony DSC-T1, showing the blotchiness of the display:
As you can see, not great. As the Geniuses put it, "not up to specifications". Not by a long shot. As far as they were concerned, it should never have been sent as my replacement, and it should have been replaced on the spot, but there was a snag. Since the unit didn't come from their stock — Apple sent it to them — they can't replace it. So what now?
Now, we're back to calling AppleCare and dealing with Customer Relations again. My only fear is they they will try to repair the panel, and at this point, I am of the opinion that the only thing that should ever handle an LCD panel is the robot which assembles the unit in the factory. Hopefully, given that the Apple Retail Store would have replaced it outright, they'll choose to do the same. In fact, the Geniuses suggested that I ask AppleCare to replace it with one from the Easton store's stock, and that they should call the store's manager to make that happen. I told you they were great.